Archive for
October, 2020
Thanks to a global epidemic, trillions of dollars instantly disappeared during the first quarter of this year, and then, abracadabra…the losses turned into gains and magically reappeared in the subsequent two quarters. After a stabilization in the spread of the COVID-19 virus earlier this year, the stock market rebounded for five consecutive months, at one point rebounding +64% (from late March to early September) – see chart below. However, things became a little bit trickier for the recent full month as concerns heightened over the outcome of upcoming elections; uncertainty over a potential coronavirus-related stimulus package agreement; and fears over a fall resurgence in COVID-19 cases. Although the S&P 500 stock index fell -3.9% and the Dow Jones Industrial Average slipped -2.3% during September, the same indexes levitated +8.5% and +7.6% for the third quarter, respectively.
Source: Investors.com
Washington Worries
Anxiety over politics is nothing new, and as I've written extensively in my Investing Caffeine blog, history teaches us that politics have little to do with the long-term performance of the overall stock market (e.g., see Politics & Your Money). Nobody knows with certainty how the elections will impact the financial markets and economy (myself included). But what I do know is that many so-called experts said the stock market would decline if Barack Obama won the presidential election…in reality the stock market soared. I also know the so-called experts said the stock market would decline if Donald Trump won the presidential election… in reality the stock market soared. So, suffice it to say, I don't place a lot of faith into what any of the so-called political experts say about the outcome of upcoming elections (see the chart below).
COVID Coming Back?
One of the reasons stock prices have risen more than 50%+ is due to a stabilization in COVID-19 virus trends. As you can see from the charts below, new tests, hospitalizations, and death rates are generally on good trajectories, according to the COVID Tracking Project. However, new COVID cases have bumped higher in recent weeks. This recent, troubling trend has raised the question of whether another wave of cases is building in front of a dangerous, seasonally-cooler fall flu season. Traditionally, it's during this fall period in which contagious viruses normally spread faster.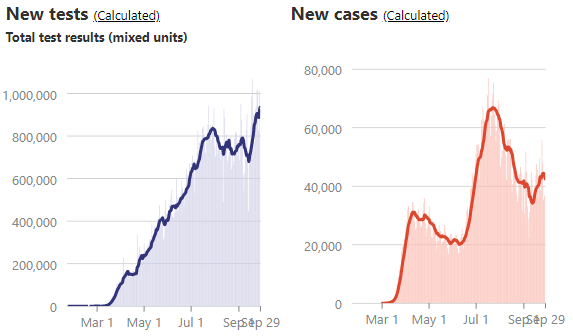 Source: The COVID Tracking Project
Regardless of the trendline in new cases, there is plenty of other promising COVID developments to help fight this pandemic, such as the pending approvals of numerous vaccines, along with improved therapies and treatments, such as therapeutics, steroids, blood thinners, ventilators, and monoclonal antibodies.
Business Bounce
From the 10,000-foot level, despite worries over various political outcomes, the economy is recovering relatively vigorously. As you can see from the chart below, the rebound in employment has been fairly swift. After peaking in April at 14.7%, the most recent unemployment rate has declined to 8.4%, and a closely tracked ADP National Employment Report was released yesterday showing a higher than expected increase in new private-sector monthly jobs (749,000 vs. 649,000 median estimate).
Source: U.S. Bureau of Labor Statistics
From a housing perspective, house sales have been on fire. Record-low interest rates, mortgage rates, and refinancing rates have been driving higher home purchases and rising prices. Urban flight to the suburbs has also been a big housing tailwind due to the desire for more socially distanced room, additional home office space, and expansive backyards. Adding fuel to the housing fire has been record low supply (i.e., home inventories). The robust demand is evident by the record Case-Shiller home prices (see chart below).
Source: Calculated Risk
There are plenty of industries hurting, including airlines, cruise lines, hotels, retailers, and restaurants but the economic rebound along with government stimulus (i.e., direct government checks and unemployment relief payments) have led to record retail sales (see chart below). Spending could cool if an additional coronavirus-related stimulus package agreement is not reached, but until the government checks stop flowing, consumers will keep spending.
Source: Calculated Risk
Besides trillions of dollars in fiscal relief injected into the economy, the Federal Reserve has also provided trillions in unprecedented relief (see chart below) through its government and corporate bond buying programs, in addition to its Main Street Lending Program.
Source:The Financial Times
There has been a lot of political hocus pocus and COVID smoke & mirrors that have much of the population worried about their investments. In every presidential election, you have about half the population satisfied with the winner, and half the population disappointed in the winner…this election will be no different. The illusion of fear and chaos is bound to create some short-term financial market volatility over the next month, but behind the curtains there are numerous positive, contributing factors that are powering the economy and stock market forward. Do yourself a favor by focusing on your long-term financial future and don't succumb to politics and COVID tricks.
Wade W. Slome, CFA, CFP®
Plan. Invest. Prosper.
This article is an excerpt from a previously released Sidoxia Capital Management complimentary newsletter (October 1, 2020). Subscribe on the right side of the page for the complete text.
DISCLOSURE: Sidoxia Capital Management (SCM) and some of its clients hold positions in certain exchange traded funds (ETFS), but at the time of publishing had no direct position in any other security referenced in this article. No information accessed through the Investing Caffeine (IC) website constitutes investment, financial, legal, tax or other advice nor is to be relied on in making an investment or other decision. Please read disclosure language on IC Contact page.